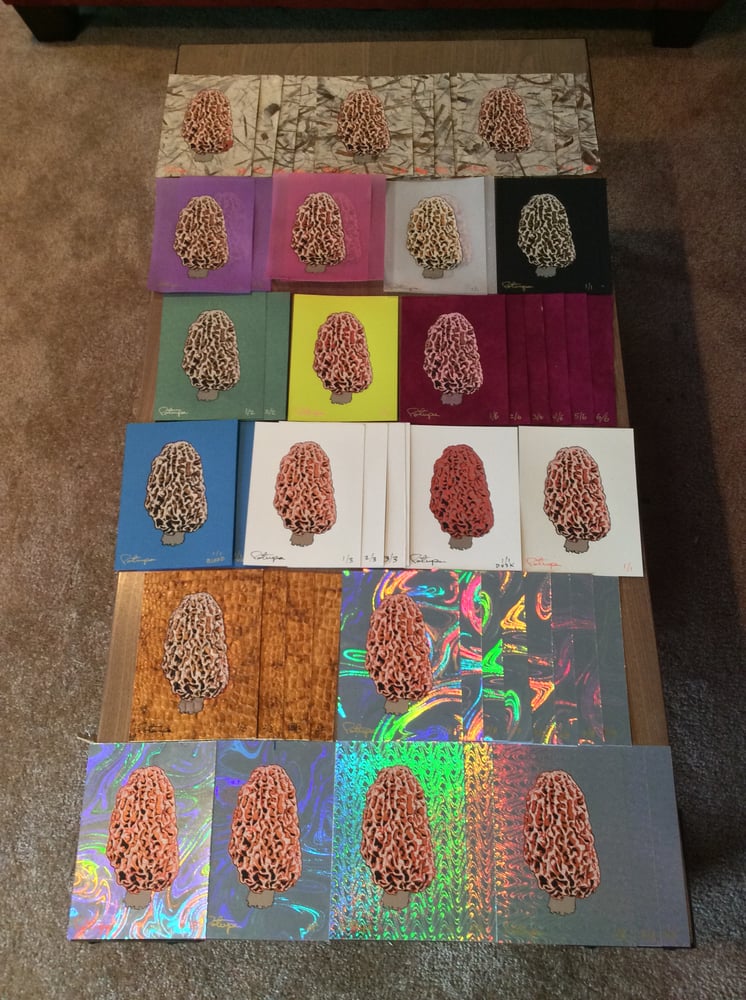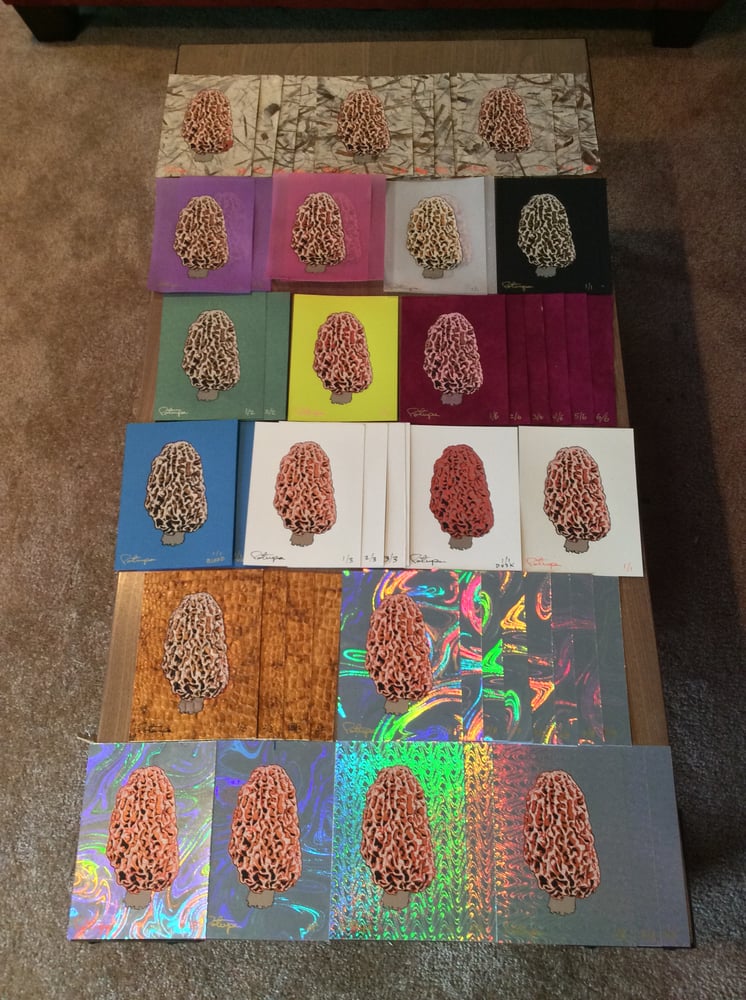 Morel (sp. Morchella esculenta)
by Michael Potempa
$25.00 / Sold Out
This is an image created from a photograph I took in Indiana last year(2017) while foraging. I digitally illustrated the morel in Adobe Draw using just my finger, no stylus. Once I had the image layers separated I was then able to manually screenprint the image onto an assortment of unique papers.
Due to fibers, different textures and being cut by hand the prints will ALL have small(mostly unnoticeable) variations and possible flaws and blemishes. Being handmade, please be aware that the prints will NOT be perfect. Whether it be the exact dimensions of 5"x7" being a bit larger(or smaller) or the registration being slightly off, there are possibilities of there being a ding or smudge of paint here or there. A couple of the foils have a registration mark on them from prior printing from Matt Dey at Blunt Graffix. I chose to leave these on the prints for the historical significance and "art paper trail" for lack of a better term. They are toward the edges of the prints to have the option to frame them out(mostly).
Please heed this warning before buying. If this doesn't appeal to you, please do not purchase for I will not offer any refunds for any of the above reasons. If your print is destroyed by USPS, that is another story and I will be sure to reimburse you. I am still a rookie in the screenprinting studio, so please keep this in mind when purchasing the print. I've done my very best to create a product I can be proud of and that you'll enjoy having on your walls. I will have a few framed options available in July if they do not sell at the art show at Nickel Plate in Indianapolis.
This is an edition of only 60 total prints including APs.
Five color hand-cut and hand-pulled silkscreen prints.
The main edition is a run of 15 on a wood flake paper. It's meant to emulate the feel of foraging locally in Indiana and the camouflage nature provides making the morel as mysterious as it is delicious.
Many of the prints are less than 6 total prints per unique paper. They include: black rubber, speckled egg, gator-skin, vellum, raspberry fiber, moss shine, holofoils and more!
You will receive one of the following papers at random when you purchase this option.
Thank you for your support!
-Cheers
*Prints will be placed in a poly bag with backer card and shipped flat between cardboard inserts for extra padding and support.
*I wrote this longwinded description with the aim of being transparent as possible about the process and finished product. I hope everyone who decides to make a purchase has read the info above and thoroughly enjoys the print once it arrives at your doorstep!